Here's the list of the best hydration packs you need to pick up to crush your next trail run. Got your hydration pack? Trail running is one of the hottest new outdoor sports out there. Literally. I mean, any serious trail runner knows the key is distance and elevation change, and usually the most fun is hopping stone to stone on a bare ridge.
Best Hydration Packs 2020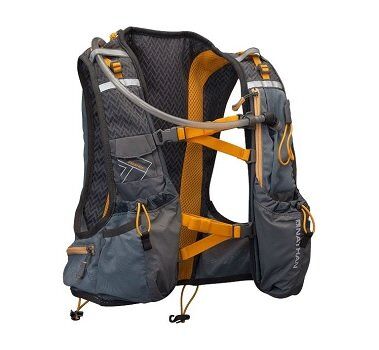 Travel light, go farther. It's science. The Nathan VaporAir pretty much dominates the weight game, coming in at 2 ounces shy of a pound (including the bladder). The load-lifters ensure it stays tight and close when you're pushing it because the last thing you need is a pack that starts moving when you hit mile 10, much less mile 2. And despite the lightness, it has plenty of pockets for your smartphone, a waterproof one for your Ibuprofen (gotta de-swell them knees) and for those reserve bottles on the front. Looking to set the speed record for the JMT in August? This should do it just fine.
CamelBak was the first hydration pak I ever owned and it's no wonder that they still dominate the market. The CamelBak Nano Vest at 140 grams is lighter than my smartphone. It doesn't have a lot of bells and whistles so you'll probably have to leave too many snacks – and your puffy – at home. But when it does bring is decades of experience making the best hydration packs on the planet. And pockets for two water bottles (included). And straps for your hiking poles. And super-breathable micro mesh. And a 34oz capacity reservoir to ensure you stay hydrated.
The Salomon Agile 2 isn't a hydration pak in the sense that it doesn't carry a bladder with a drinking tube and nipple. The Agile 2 is a minimalist vest that makes you look maybe like Toad in Mario Brothers 2 (remember that guy? Super short vest?). But if you're going for a quick run and need something to slip on with two 1.1 liter water bottles, and maybe a back pocket for your phone, this is you jam. This is the "I'm running a couple miles to the gym" pack. Or the "I've got half a lunch break to grind before I have to get back to work" vest. It hugs you tight and fits in your car seat back pocket so you can have this vest on you pretty much at all time. Because who knows when you might get a quick 35-minute-window to squeeze in a blood-pumping, head-clearing mini-blister.
Women's chests tend to be different from men's, and Ultra Vest understands that. This isn't some mansplaining either; this is a vest designed by women, for women. With max adjustability to guarantee comfy fit without chafage, a couple different types of mesh spread throughout to minimize the weight to strength ratio, and probably the most storage in the front of any vest I've seen, it's no surprise this two-500-ml-bottle vest has crossed the Ultra finish lines thousands of times. Especially since the Ultra-Marathon is a sport where women are dominating. Makes sense they'd design a running vest that would do so too.
CamelBak's Circuit Vest is even more proof that the company's legacy is unbounded. It's the only brand with 2 packs on this list and for good reason. While the Nano is superlight, the Circuit is the top=selloing CamelBak vest, barebones and with a price to match. Packing a 1.5-liter CRUX reservoir and pockets for extra water flasks should you need them, as well as a small phone pack and reflective coating for running in the dark, it has exactly what you need and nothing more.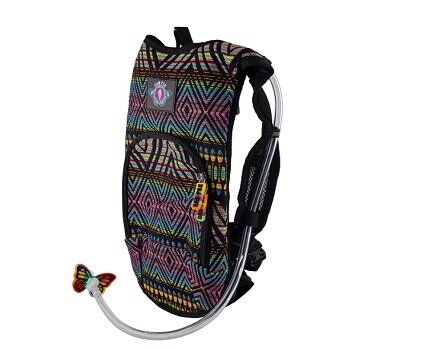 If Danpak isn't the backpack of choice for every music festival and rave, then that category simply doesn't exist. Wild psychedelic colors? Check. Shiny sparkly materials? Check. Colorful butterfly on the drinking tube? Check. Ensuring you don't get dehydrated from having too much fun in the middle of the desert during Coachella/Burning Man/Joshua Tree Fest? Priceless.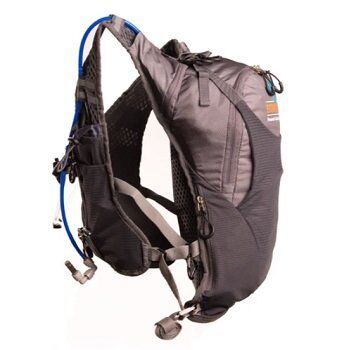 Do you ignore all the warnings and go for long runs in the sun on 115 degree days? Then ExtremeMist's Misting Hydration back pack is for you. A backpack with a combo hydration hose and a personal mister pulling from the reservoir, this is guaranteed to keep you cool – or at least cooler. While it's heavier than the other packs on this list (it has a high-pressure water pump inside it, after all), it's also more high-tech (there's a remote control attached to control the output and functioning of said pump). My only warning would be that sometimes the hose connecting the pump to the mister hose has issues due to the pressure needed to force the mist through, and leaks if not pushed in properly. The result? A little bit of drippage. Though if you're running on a hot day, that actually doesn't feel too bad. And usually you can push the hose back in so it starts picking up the water for misting action.
Hydration Packs Price Comparison